Ahhh memories of summer, hard to believe it only just ended as it feels so long ago 🙁 .  We at Community Transport have been so very busy these last few months that it is hard to know where to start with all that has been achieved; anyway continue reading for highlights of the top events.
Big Day Out
You may recall our previous stories of the amazing fundraising feats our staff completed to provide under privileged children with memorable summer memories. We spoke about it here and here and their valiant efforts were not in vain as we were able to treat over 200 children from Waltham Forest and Newham to a fully catered day out at Southend on Sea; this included transport to and from each respective borough, full access to the Adventure Island, Sea Life Aquarium and a tasty lunch of fish n chips, drink and ice cream.  This is the second year we have staged this event and the reactions and feedback from the participants still give a 'zing' to the heart and smile to your cheeks :). Click these links  BDOcard_1 BDOcard_2 to view a snippet of the comments received.
Excursion Club
Our Excursion Club expanded this summer and we were able to extend the service to residents in Newham.  This season members from both boroughs had the opportunity to visit Southend on Sea, Polhill Garden Centre, The Hop Farm & Teapot Island as well as enjoy Myddleton Gardens.  Membership within Waltham Forest continues to grow and our initial launch in Newham this summer indicates that a service such as this will provide a welcome outlet to tackle the ambit of loneliness and social isolation among the elderly and disabled.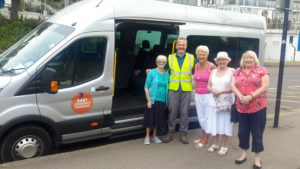 Dial-A-Ride
And finally the most exciting event to happen for us this summer (drum roll please)…Community Transport Waltham Forest has become a sub-contractor for TfL's Dial-a-Ride services in the boroughs of Waltham Forest and Newham!!!! What exactly does this mean?  Well the protocol for joining Dial-A-Ride remains the same with contact being made directly to Dial-A-Ride for bookings and membership, however, Community Transport will now execute service delivery within the boroughs on behalf of Dial-A-Ride.
Future Events
We are currently in the planning stages of offering more events for to benefit and uplift the Community and Excursion club side of our operations so stay tuned to our newsletter, Facebook and Twitter for updates.